Context is King
I used to have the utmost respect for Dr. James White. He tremendously helped me think about the Scriptures in ways that were new and exciting to me as someone who had been raised in the trenches of KJVO Pentecostalism. I owe a great deal to White's work and ministry for many of the key theological milestones I've reached in my life. Ironically, it was his debate with Douglas Wilson about whether or not Roman Catholics are our brothers and sisters in Christ that made me reconsider my position on believer's baptism.
Although, my theology was far away from his at the time (as I was well settled into the Cumberland Presbyterian camp), I was honored when some of my Baptist friends invited me to attend an apologetics conference where Dr. White would be speaking that was being hosted by their local association. Dr. White's talk on New Testament reliability was enthralling and very enlightening. I thought of Dr. White fondly as someone who, though a tad bit arrogant and intimidating at times, could be trusted to provide thoughtful dialogue on any given theological topic. It was for this reason that I used to think Dr. White was reasonable enough to have an open dialogue with someone he disagreed with. Almost anytime he saw someone on social media making what he believed were ridiculous claims he would invite them to debate the issues. At times he has even invited people to come onto his show, The Dividing Line, and talk through those issues with him. However, it seems that White doesn't seem to want to participate in these kinds of open dialogues anymore. Instead, it seems as though he would rather call out his opponents on social media without giving them a chance to defend their statements so he can continue to get applause from his fan club.
James White has such a high profile in the theological world that he doesn't need to bother himself with every statement made about him on Twitter or Facebook, but I guess his pride won't allow him to rest until he vindicates himself to his audience.
Here's What I Mean
Personal friend and former LNT contributor, Cory Allen Byrum, posted a quote from Reformed Baptist Pastor Josh Sommer.
Sommer also made another post which can be seen here: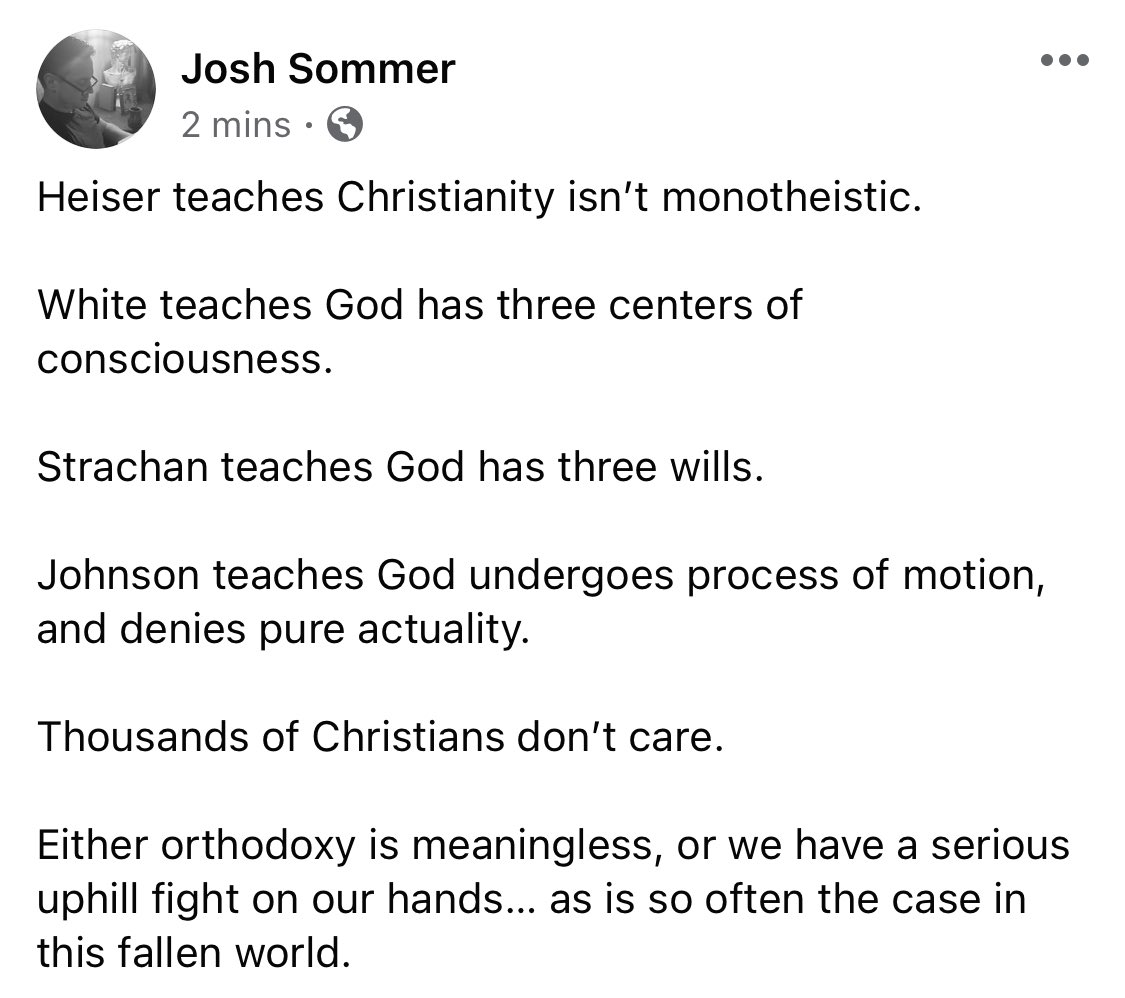 I'm not sure which one of these quotes caught White's attention first, but his response on Twitter to the second post soon followed.
It seems as though if you respond to probing questions with your resume, then that makes you correct.
Sommer responded, requesting dialogue with White. White didn't oblige.
James White made this discussion about social media numbers, Sommer didn't. Now, I'm sure if Josh Sommer had offered to pay White an honorarium to travel to where he was, then I'm sure White would have jumped all over the opportunity to "pump up his social media numbers," but seeing as how White didn't feel he had to anything to personally gain from this dialogue, he might as well accuse Sommer of trying to make a name for himself and move on.
If this had been the sum of the whole interaction between White and Sommer, then we could just call it an interesting day on Twitter and go home, but that wasn't the end. White went on his own program, The Dividing Line, and proceeded to promptly belittle Josh for his youth and then before reading and condescendingly responding to the quote above that Cory Allen Byrum shared, White said at the 10:25 mark, "My hope is that 20 years from now Josh is going to be sitting at his desk and just go, 'Oh Lord, I see now and I've repented and may I teach others not to do what I did as a young person.'"
And what exactly is that? Challenge him?
Honestly, I would expect someone who is as educated as he is, as old as he is, and someone who holds the office of elder in Christ's church as he does, would not be so arrogant as die on every hill he comes across.
What Privilege?
It's simple: Sommer offered to talk to him one on one, and White hid behind his resume and his microphone to make sure his followers only got one side of the story. My hope is that we can see open and honest dialogue between these two great minds and that Dr. White will come to a place of repentance for the way he has behaved.